SharePoint QMS Setup Guide
Abstract Create a team site to manage Quality system scope, context, and processes (ISO 9001, Clause 4), track risks and actions (Clause 6), analyze, evaluate, and improve (Clause 9) - 100 minutes to work through,requires a Microsoft 365 Business subscription.
ISO 9001:2015 also applicable to ISO 14001:2015, ISO 27001:2013, ISO 45001:2018 and ISO 50001:2018
Index
Create team site for quality management
Create a list for issues
Create a list for requirements
Add a property for issue or party
Create a document library for processes
Create a list for actions
Create a list for risks and opportunities
Create a list for objectives
Create a document library for procedures
Create a document library for reports, reviews and more
Reorganize navigation menu
Update the homepage
Create a team for quality management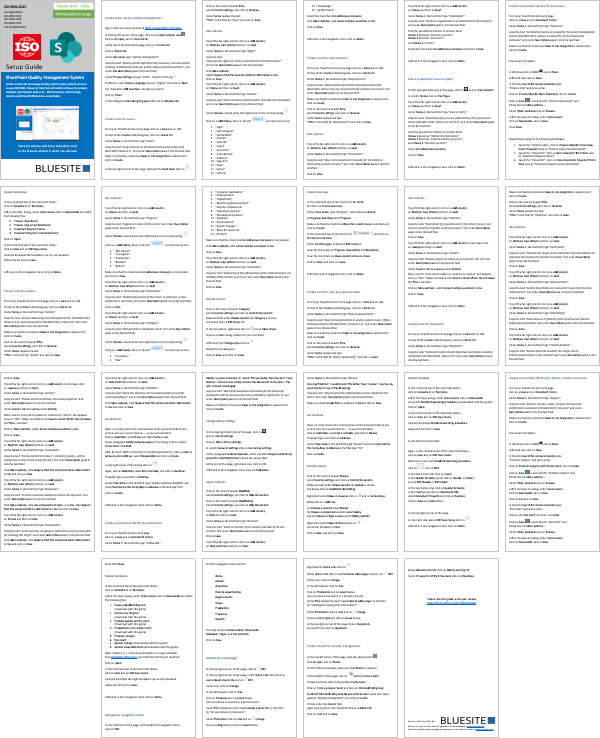 Split screen optimized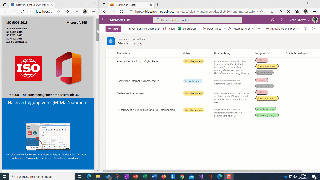 Place the window with the setup guide next
to the browser window in which you will work
SharePoint QMS Setup Guide and Templates


Content of this download
.pdf, step-by-step Setup Guide (20+ pages)
.docx, .xlsx, .pptx, 7 document templates
last update: January 14, 2023
only 35.00 USD
click to pay in EUR
158 copies already sold
Please choose the option you want to pay. After your payment, you will be redirected to the page with your downloads and your receipt.
- Made in Germany -
BLUESITE Beratungsgesellschaft für
die Informationstechnologie mbH
Phone +49 7273 919738
Monday to Friday 9:30am - 4:30pm German time
info@bluesite.de


Friedrich-Ebert-Straße 52
76767 Hagenbach (GERMANY)

General Manager Mr. Dennis Scherrer
Commercial Registry HR B 21820 Landau Municipal Court
VAT-ID DE243067424

The electrical power in the office and all
home offices where this guide is developed
comes from renewable sources