Determine the scope of the quality management system in SharePoint Online in Microsoft Office 365
SharePoint Online in Microsoft Office 365 is exactly the right infrastructure for quality management: an intelligent intranet in the cloud for all the requirements of the International Standard for quality management.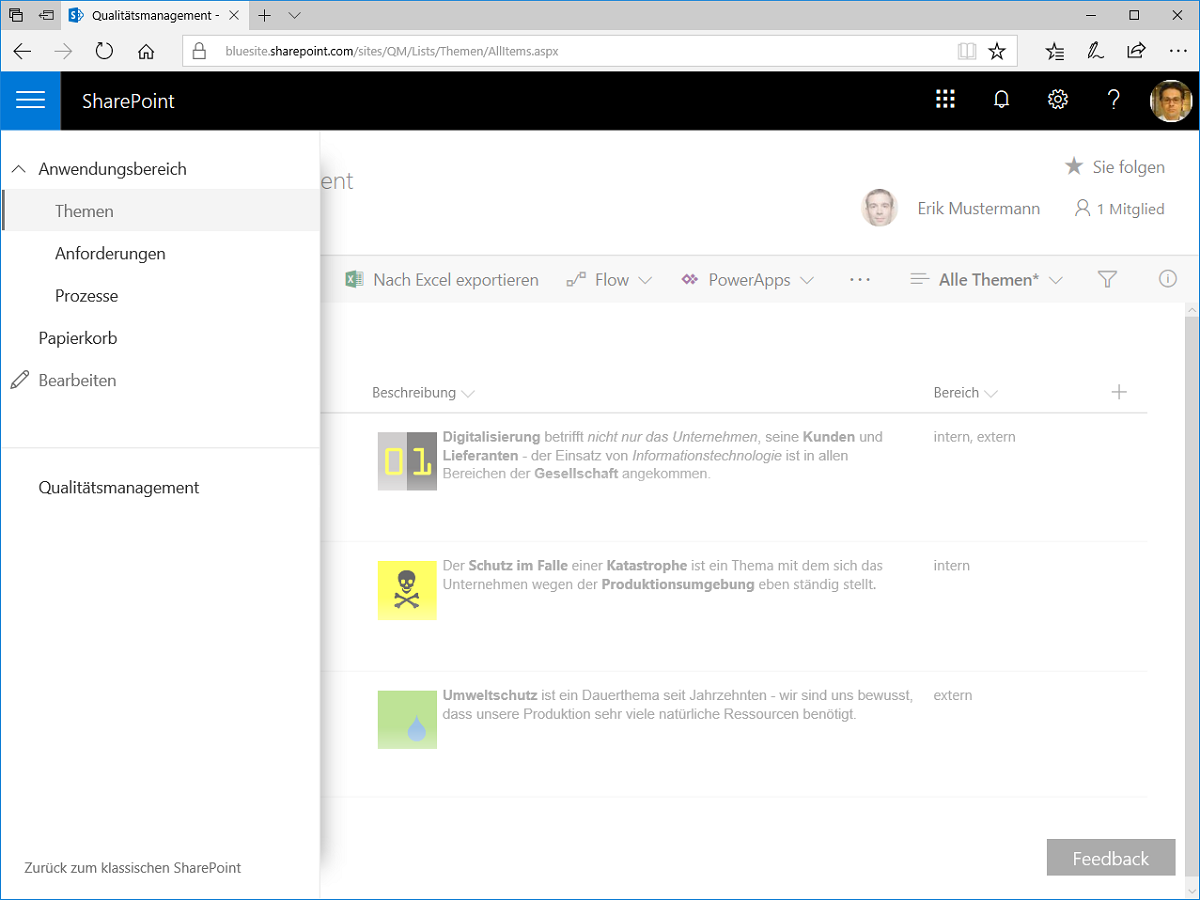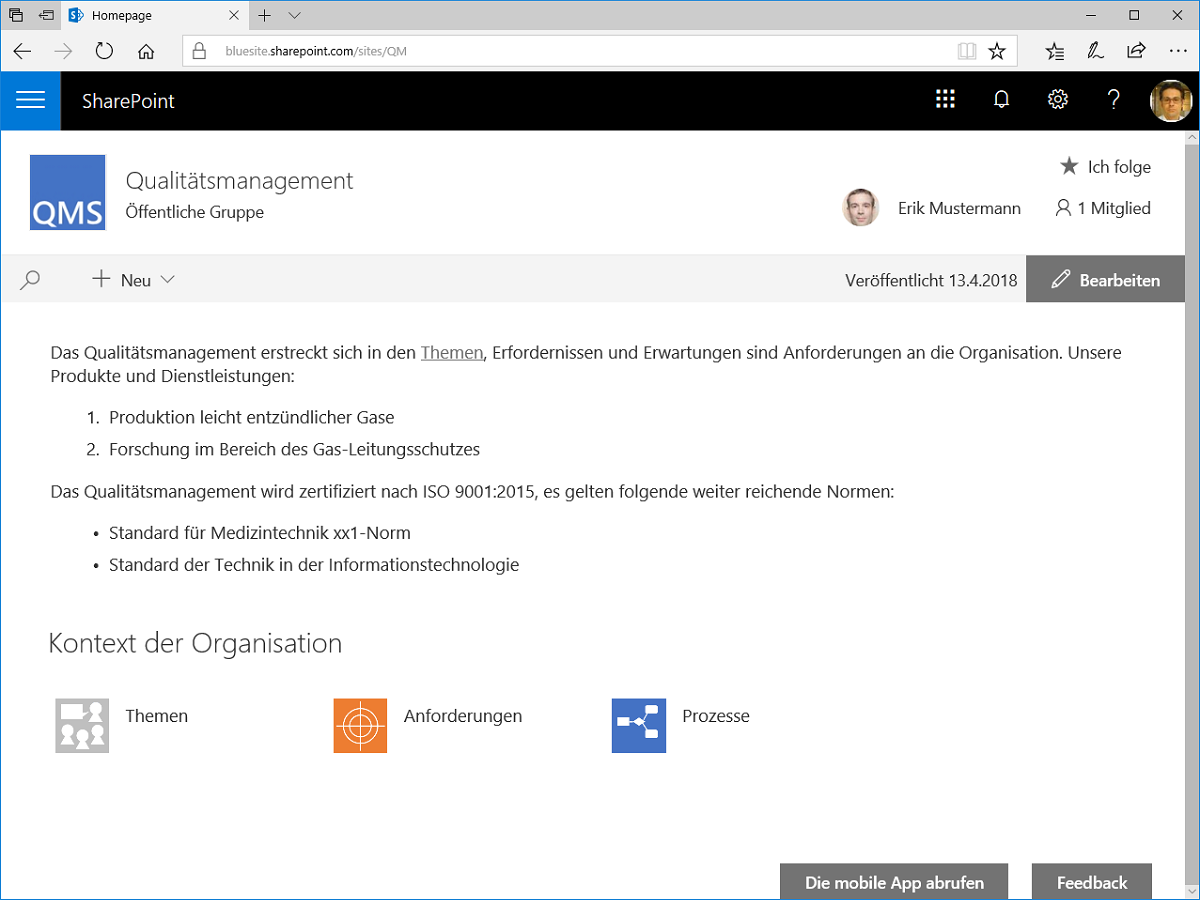 Requirement to determine the scope
For a ISO 9001 certification, an analysis of the desired scope must be done, that the QM system covers. This scope must be updated regularly. It covers, for example, current topics at customers, suppliers, but also in the company itself, laws and regulations or cultural and societal aspects. Learn in the presentation
SharePoint Online for the analysis of the scope
The intelligent SharePoint intranet manages the result of this analysis. It can be easily sorted or filtered like Excel worksheets. Entries are protected from unintended alterations (another more requirement of the ISO 9001 standard) and can be linked together. Learn more in the demonstration
---
Webinar
Determine the scope of the QM system in Office 365
You will learn about the requirements regarding the context of the organization, the interested parties and the scope according to the standards texts, and you´ll see how to determine the scope with the SharePoint app in Office 365 (Duration 1 hour).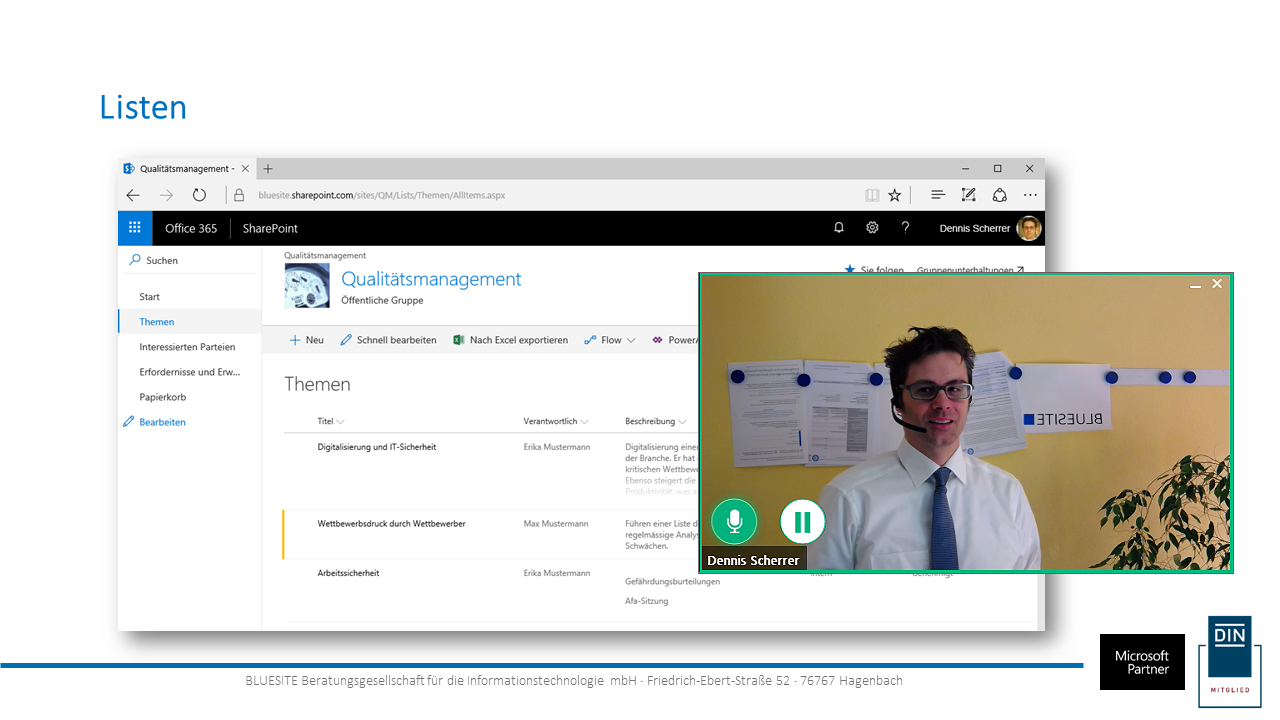 Due to the monthly Office 365 Featureupdates and the copyrighted standards texts in the presentation, webinars are not recorded.
Updates April 2018
Improvement in the navigation menu structure
Procedure for inserting symbols substantially eases
Integration into customer requirements management
Links with images on pages describing the scope
Content of the webinar
Presentation: Requirements of the Standard and related features in SharePoint
1:30pm Lecture with slides from IT consultant Mr. Dennis Scherrer
Demonstration: SharePoint Quality Management Intranet
2:00pm Live demonstration ot the steps in SharePoint
2:30pm End of the Webinar
Next Webinars

May, 2. 2018, 1:30pm till 2:30pm
Language English (

EN

)

May, 24. 2018, 1:30pm till 2:30pm
Language English (

EN

)

May, 30. 2018, 1:30pm till 2:30pm
Language English (

EN

)

June, 20. 2018, 1:30pm till 2:30pm
Language English (

EN

)



Hint: test before participate in

Webinar

using the

System-Check

that the Webinar-Software works for you.



Register





Microsoft, Office 365, Excel and SharePoint are Trade Marks of Microsoft Corporation
BLUESITE Beratungsgesellschaft für die Informationstechnologie mbH is Microsoft Partner and DIN Member