Support for Quality Management using SharePoint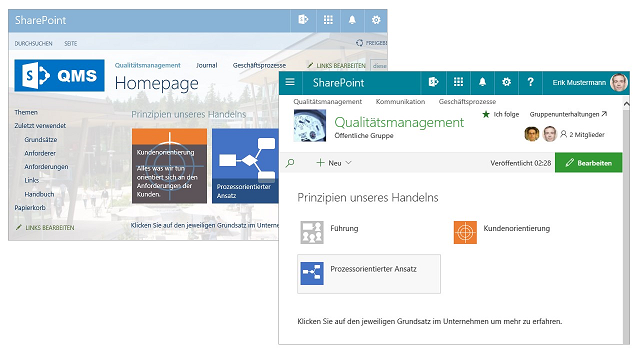 With its SharePoint in Office 365, Microsoft already offers all the features required for an ISO 9001-compliant quality management system. Implementation in companies varies considerably: depending on the industry, additional standards must be covert (for example, ISO 13485 for medical devices). With an individual configuration, companies get a reasonable and effective SharePoint quality management system.
Examples
SharePoint features for process-oriented work
Content types and SharePoint workflows supporting process-oriented work in both, management documentation and production. Processes are viewed in charts, based on the SharePoint edition or Office 365 plan. The correct configuration of SharePoint increases the efficiency, here: Employees work more process-oriented.
Managing documented information with SharePoint
Document steering is supported by website features for document center, document library settings, and the correct use of content types and templates. Higher efficiency through configuration of SharePoint features for a) resubmission b) release process c) retention policies, etc.
With expertise in Microsoft SharePoint, knowledge of quality management standards, and experience in various industries, several configurations for SharePoint-supported quality management systems have been documented.
Advantages of SharePoint configuration for quality management
integration of the QM system into existing SharePoint intranet
integration with other SharePoint management systems
low dependency: configuration without installation
transparent and traceable with the documentation
high acceptance and effectiveness thanks to Microsoft Office
exchange of experiences with seminar participants
your language: ISO 9000 terms
From this documentation of SharePoint QM systems, methods for efficient configuration are developed. The resulting seminar and webinars are constantly being improved for appropriate and effective quality management systems with SharePoint.
Webinar about digital Quality manual using SharePoint
Webinar